Private Catering, Elevated
Let Us Come to You!
Our private catering services are completely customized to meet your wants and needs. From small, intimate dinners to large scale events, we can provide Tides' worthy culinary delights along with our professional staff and all that your event needs to be successful. Fully stocked and staffed bar and wine services are also available.
Introducing Lunch Offerings for your Home or Business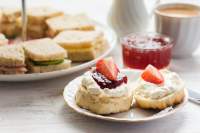 Tea Sandwiches
(Minimum of 4 people)
Select between 3 to 5 of these offerings
Egg Salad, Dave's 21 Grain Bread
Tomato & Mascarpone
Cucumber & Herb (either chive or dill)
Smoked Salmon & Cream Cheese on Rye
Shrimp Salad
Roast Beef & Horseradish
Roast Vegetables & Herbed Goat Cheese
Ham & Cheese
Turkey, Arugula & Tomato-Ginger Jam
Classic Turkey & American Cheese
Salami & Provolone
Prosciutto & Fig Jam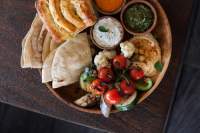 Mediterranean Platter
(Minimum of 6 people)
Classic Hummus, Tides Roast Red Pepper Hummus or Tzatziki
with Piquillo Pepper Relish, Toasted Pita Chips, Tide's Greek Salad and Vegetable Crudité of Tomato, Cucumber, Peppers, Radish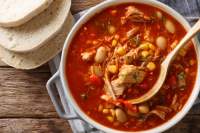 One Pot Wonders
(Minimum of 6 people)
Five Bean Chili
Choice of Vegetarian, Beef or Ground Turkey
with Chips, Cheese, Sour Cream, Salsa
Coconut Curry
Vegetable, Shrimp or Chicken
with Basmati Rice, Scallion, Naan Bread, Mango Chutney
BBQ Pulled Pork
with Slider Burns, Red Cabbage Coleslaw, Sliced Pickles
Chicken Cacciatore
with Ziti & House Salad
Brisket au Jus
with Potato Latkes & Apple Sauce
Southwest Fajitas
Choice of Chicken, Steak, Shrimp or Vegetable or a combination of two
with White Rice, Black or Pinto Beans, Pico de Gallo, Hot Sauce, Sour Cream, Corn & Flour Tortillas
Irish Guinness Beef Stew, Parsnips, Carrots, Potatoes
with French Baguette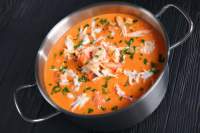 Hot and Cold Soups
(Minimum of 6 people)
Lobster Bisque
Vegan Roast Butternut Squash & Coconut, Cinnamon Tortilla Strips
Loaded Baked Potato
Black Bean & Roast Poblano Puree
Classic Gazpacho
Yellow Gazpacho
Watermelon Gazpacho
Vichyssoise
Avocado-Grapefruit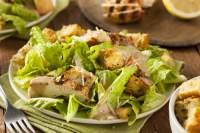 Salad Platters
(Minimum of 6 People)
Tides Grilled Pear, Romaine, Radicchio, Belgium Endive, Gorgonzola Crumbles, Candied Walnut, Champagne Dijon
Caesar, Romaine Hearts, Parmesan, Crispy Applewood Bacon
Friseé, Radicchio & Endive, Citrus Vinaigrette, Humboldt Fog Goat Cheese, Candied Pecans, Citrus Supreme
Mixed Greens, Heirloom Tomato, Cucumber, Pickled Red Onions, Shaved Radish, Red Wine Vinaigrette
Santa Fe Chopped Salad with Avocado-Buttermilk Dressing
Grilled Chicken, Steak or Shrimp can be added.
Brunch with Family and Friends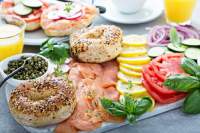 Brunch Buffet
(Minimum of 15 People)
Bagels & More
Brooklyn Bagels of various kinds, Tides House Smoked Salmon, Cream Cheese, Capers, Red Onions, Butter, House Made Blackberry Jam
Quiche Platter (Choose 2)
Quiche Lorraine with Broccoli & White Cheddar
Mushroom & Gruyere
Humboldt Fog Goat Cheese, Spinach & Roast Tomato
Breakfast Sausage and Caramelized Onions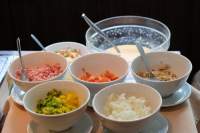 Brunch Service
(Minimum of 15 People)
Omelets, made to order
with Bacon, Ham, Sausage, Onion, Mushroom, Tomato, Spinach, Peppers, Cheese
Buttermilk Pancakes made to order
with Banana, Chocolate Chip, Maine Blueberries
Crepes made to order
with Nutella, Strawberry, Banana, Whipped Cream and more
Introducing Chef Sue Torres
Joining Chef Leanne is accomplished Chef, Sue Torres.
Chef Torres has been setting the standard for gourmet Mexican fare for over twenty years. She was the chef/owner of the critically acclaimed Sueños, the extraordinary New York hideaway serving what food critics called "The most exciting Mexican food in the city." Over the years, Torres has received notable recognition: Time Out Magazine named her Culinary Ambassador in 2004, and Working Woman Magazine included her in their list of "20 under 30" to watch. Her innovative dishes and cocktails have earned her much praise from The New York Times, Vogue, Food & Wine and Bon Appétit, to mention a few, and have established her as one of the most revered chefs in New York. Torres' original recipes have been featured in several national magazines, including Fine Cooking and Food & Wine. She's is also a top-notch restaurant consultant, and a genuinely committed philanthropist working with charity groups that include the Cystic Fibrosis Organization, Autism Speaks, The St. Jude Children's Foundation, and Women Breast & Ovarian Cancer.